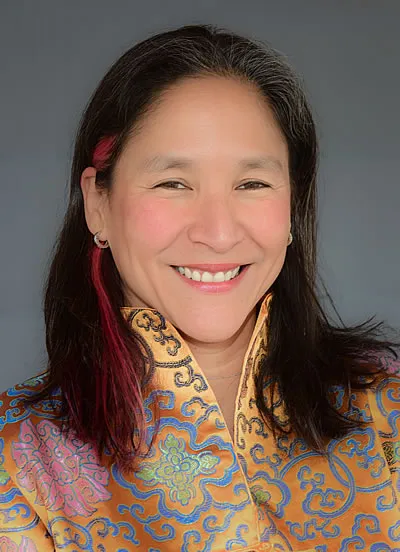 Marta Martinez graduated with a Doctor of Acupuncture and Integrative Health (DAIH) from the Massachusetts College of Pharmacy and Health Sciences in the Spring of 2019.  At MCPHS Marta received the President's Commitment to Diversity Award granted to the graduating acupuncture student who best exemplifies cultural competence in relationships with patients, families, peers and the community.
Marta is currently an adjunct faculty member at Smith College where she teaches classes on health behaviors including theoretical frameworks on health outcomes based on the CDC and current health policy.
Marta was born in Nicaragua. At the age of eight, she fled to Costa Rica with her family during the Civil war, seeking refuge before arriving in the United States to study at the age of 18. She is fluent in Spanish, English, French, and is currently studying the Chinese language. She has a Bachelor of Arts degree from Vermont College, pursued her pre-med studies at the University of Massachusetts Amherst, and completed her extensive massage therapy schooling at the Body Therapy Institute. Marta's advanced training includes the study of Chinese and Japanese acupuncture styles and medicinal Chinese herbs completed at the New England School of Acupuncture, where she was awarded her Master's Degree in Oriental Medicine. Upon graduation, Marta received the Life Long Learning Leadership Award, given to the most outstanding graduate.
Marta attended the Nanjing University of Chinese Medicine in China under the tutelage of scholars Greta Young Die and Dr. Huang Huang. She has been a student of the Balanced Method taught by Dr. Richard Tan spanning a decade. At present, she is fortunate to be a Tai Chi student of Wolf Lowenthal of the Long River Tai Chi School. Additionally, Marta has been studying with Sharon Weizenbaum of the White Pine Institute since the year 2000. Currently, Marta is a participant in Sharon's Graduate Mentorship Program.
Marta is a licensed acupuncturist by the board of registration in medicine in the state of Massachusetts and is certified by the National Certification Commission for Acupuncture and Oriental Medicine (NCCAOM). She lectures on the subject of acupuncture, healing and medicinal herbs. She has been a guest speaker at Bay Path College, Smith College, Yale University, multiple hospital facilities and other health care groups. Marta founded Stay in Touch Center in 1996. The Center is predicated, in part, on observations Marta made years ago as she pursued her training and began her practice.
I believe that integrative forms of medicine help people avoid chronic illness, reduce the severity of their ailments, preserve their health and maintain an overall sense of well being.
Marta Martinez has been an industry leader in the field of acupuncture and Oriental Medicine setting the standard for how acupuncture is practiced in the US by studying health policy as well as health systems. On a daily basis, Martinez participates in the analysis of the health industry to increase visibility, transparency and hopes to someday achieve a fee for service status for the Eastern Medical treatment, so the services are standardized across all health insurances.  As a patient in our practice, we encourage you to practice your right to view your health records anytime and have a copy of your bill to your insurance company.
During the summer of 2018, Martinez was invited to be a member of the Honor Society of Phi Kappa Phi (Chapter 326).  This exclusive membership is the oldest in the United States of America and offered to only the top ten percent of graduate students across the entire nation.
John Freitas is a licensed acupuncturist by the Massachusetts Board of Registration in Medicine. He graduated from the New England School of Acupuncture (NESA) with a master's degree in Acupuncture…